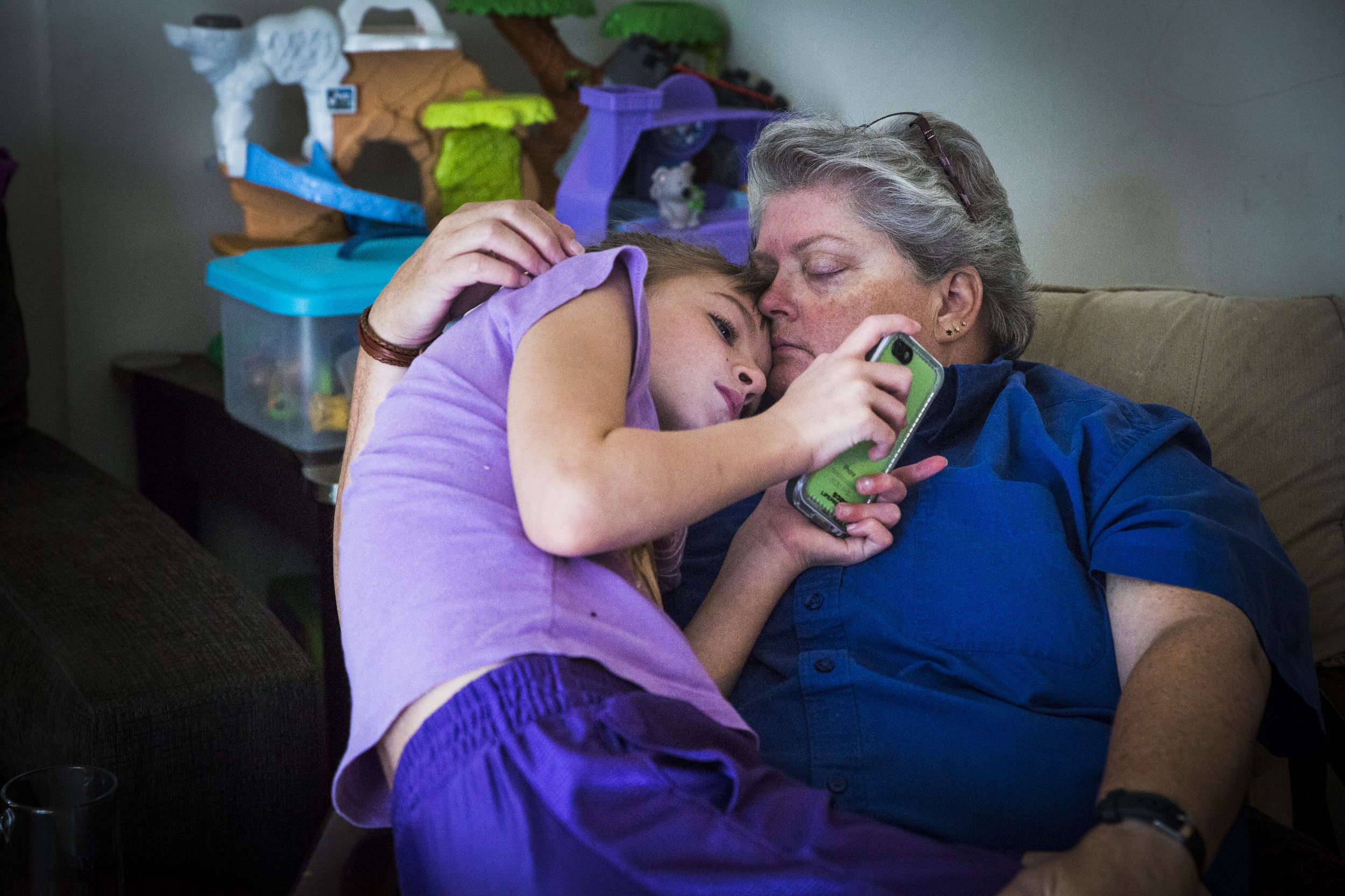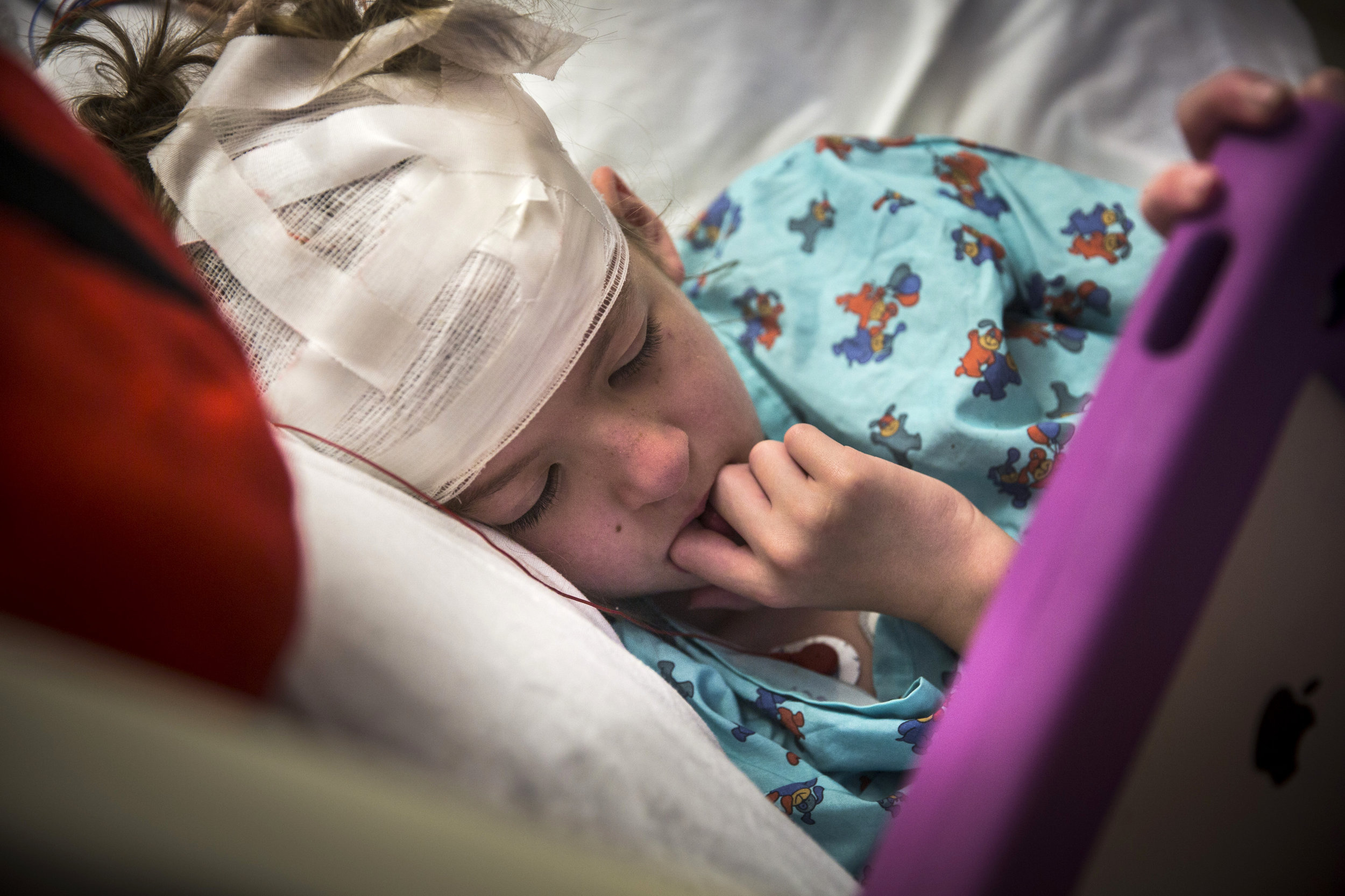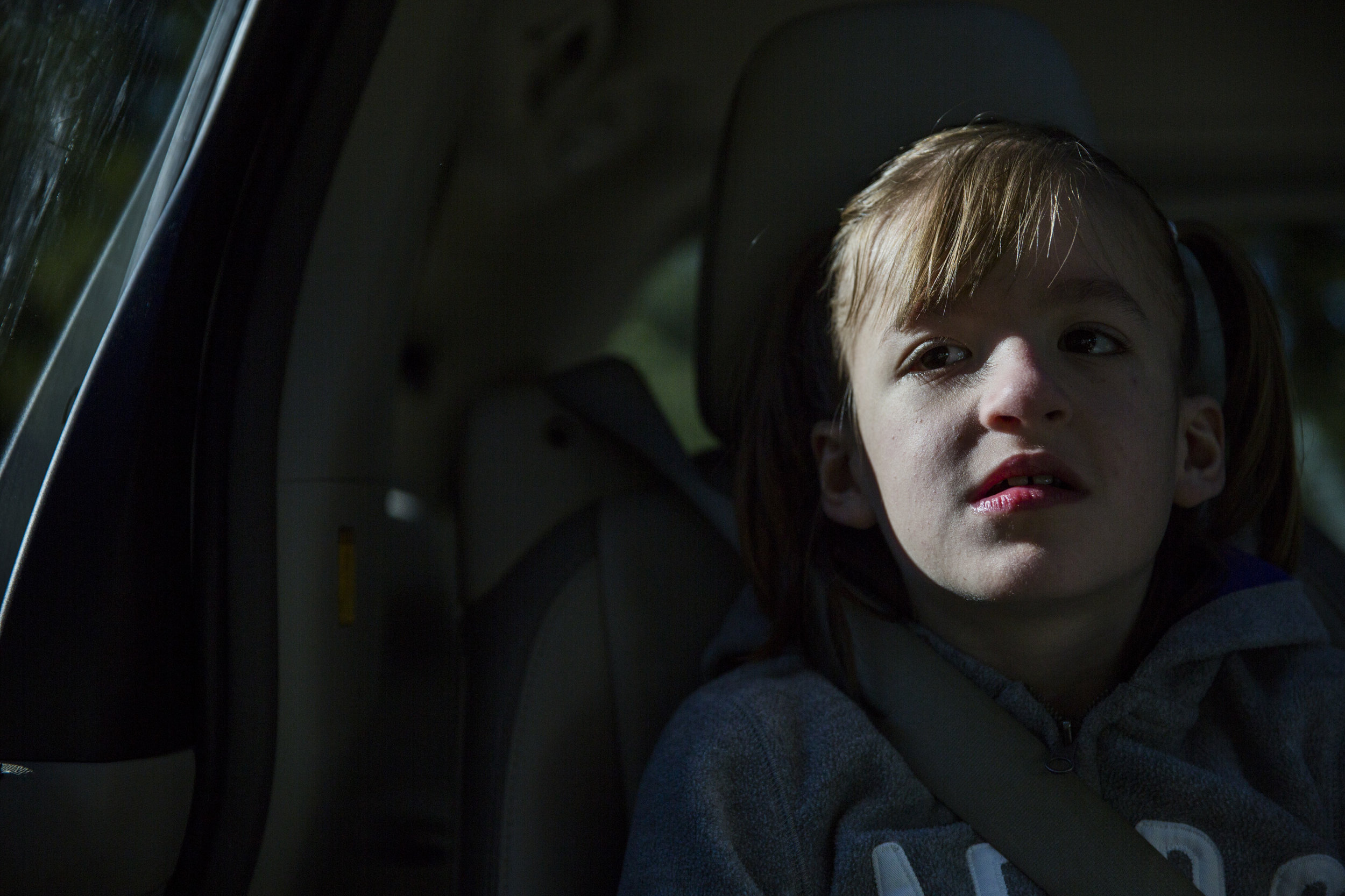 Cara Tarrricone gives her daughter, West, one of her two daily doses of Cannabis oil. Though the medical cannabis for kids bill was legalized in October, it took until March for the Tarricone's to receive the medication. The goal is to give West three doses a day, but there needs to be eight hours between doses, so the amount of doses depends on how early West wakes up in the morning.
West Tarricone, 9, has a absence seizure in the bed she shares with her mother Cara. They share a bed so Cara is close if West has a seizure in the middle of the night. This type of seizure occurs as a brief lapse of consciousness with staring and/or continuous eye blinking. West suffers from multiple seizure types, some last for a few seconds while other can last over an hour. Some days she has 100's of seizures, others she has 1000's.
Blake, West's twin, plays with her hair while she watches TV on a iPad. Blake does not suffer from the same condition as west.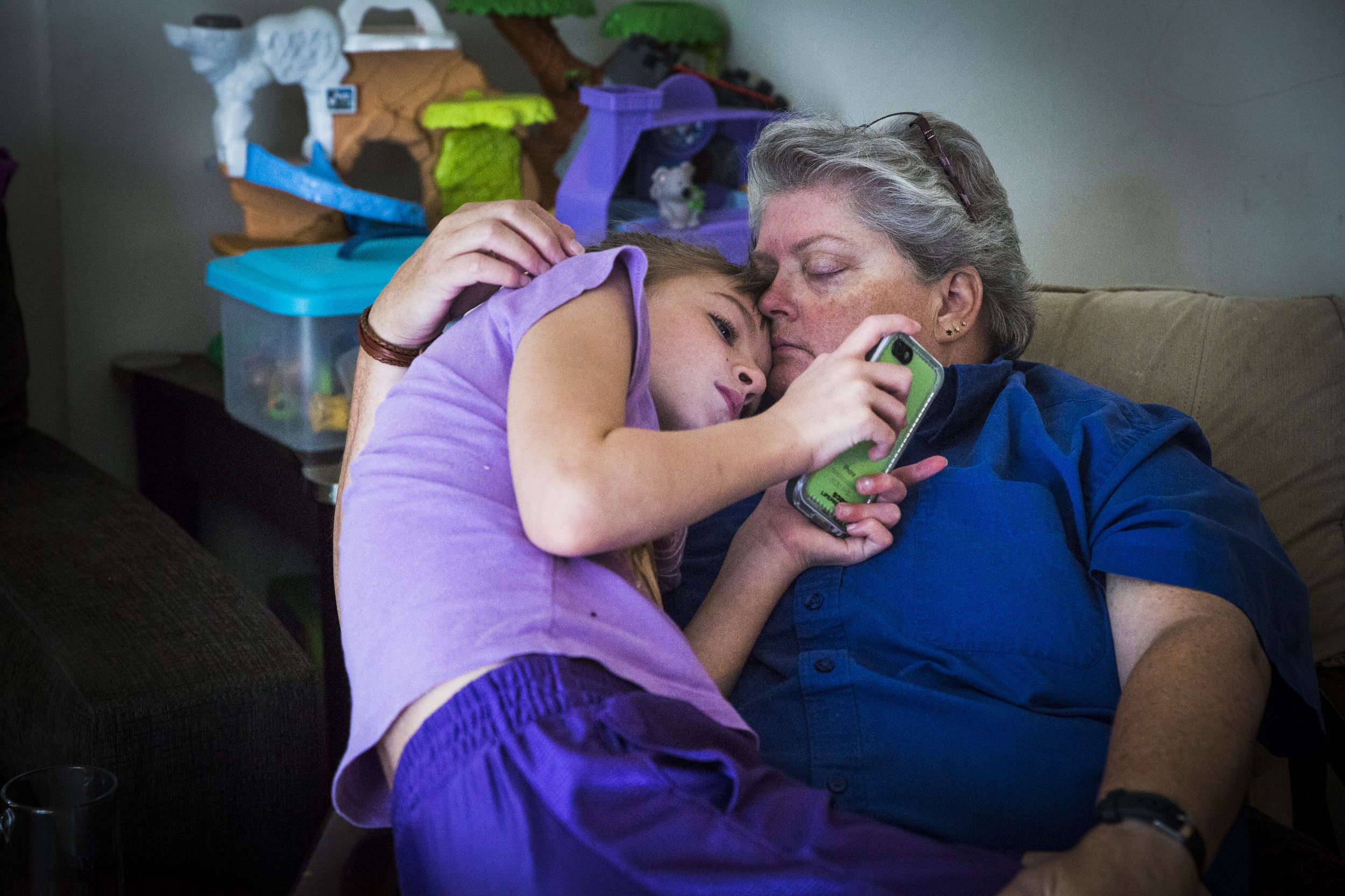 West lays on her mother Diane, after Diane comes home from work. While West's mom Cara stays home taking care of her daughter, Diane works three jobs to support the family.
West lays between her mother Diane, left, and her mother Cara, right, and watches music videos on an iPhone, while she is given a breathing treatment of albuterol before bed in her home in North Windham. West takes albuterol as needed, either when she is sick or if her seizures cause her lungs to fill with fluid. On a typical day West takes four different seizure medications, along with at least two doses of medical cannabis, three to four sleep aids as well as breathing aids and rescue medications as needed. Soon, the Tarricone's along with their neurologist will ween West off some of her seizure medications and see how she reacts.
 
West and her twin Blake play with chalk in front of their house while their mom watches them in the background. The twins are very close, Blake does not share the same condition as West. Blake usually plays with West when he comes home from school. West attends school for a few hours when she is feeling up to it, but many days her seizures cause her to stay home.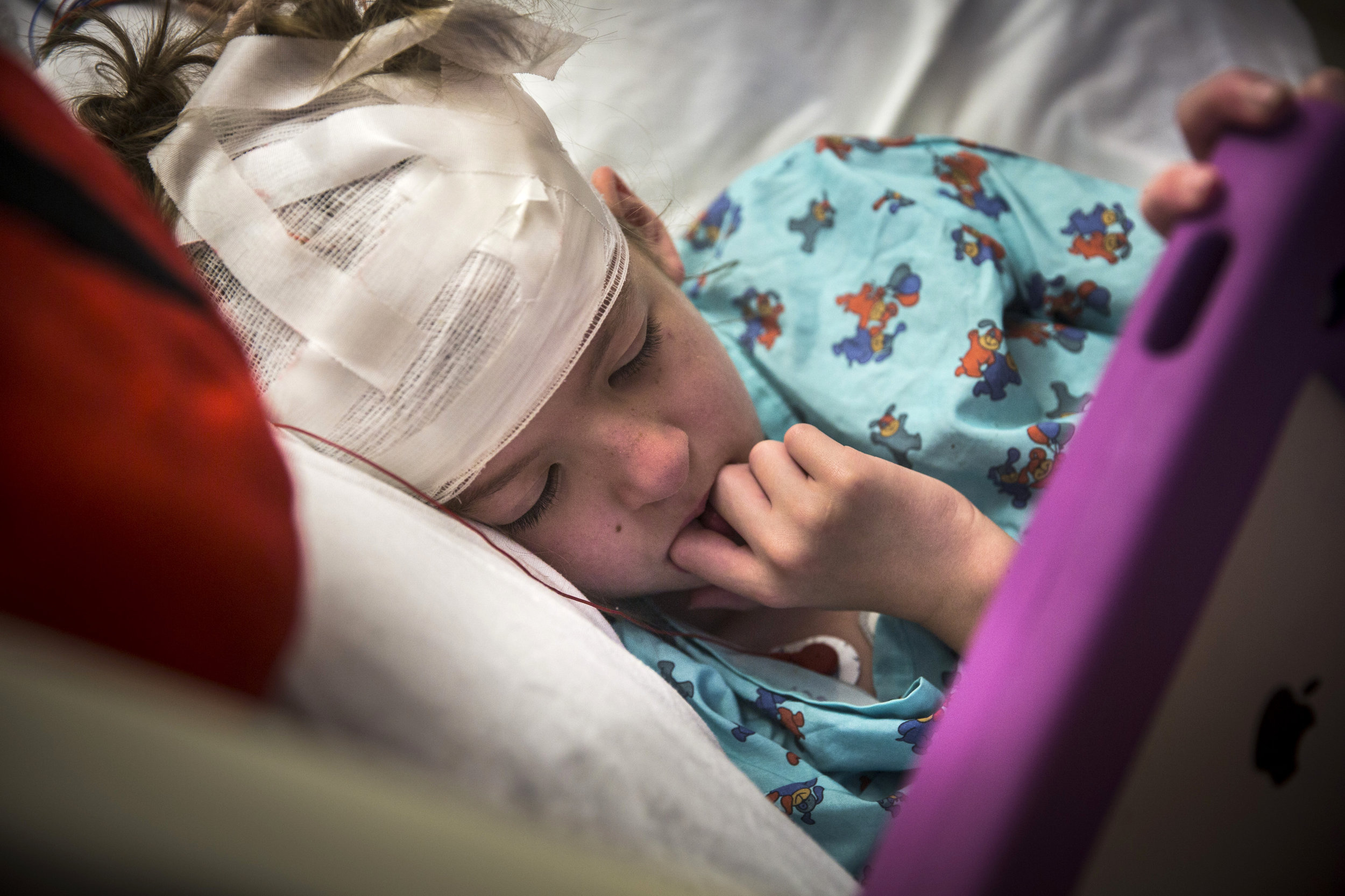 After experiencing a massive tonic clonic seizure West was admitted to CCMC in Hartford for sixteen days. She was monitored on the EEG for 6 days. As her seizures continued, she was held for observation while her parents and the neurology team tried different medications within the safety of the hospital environment.
 
Cara displays the label for the medical cannabis that West is currently taking. The label shows the concentration of the different cannabinoid's included in the medication.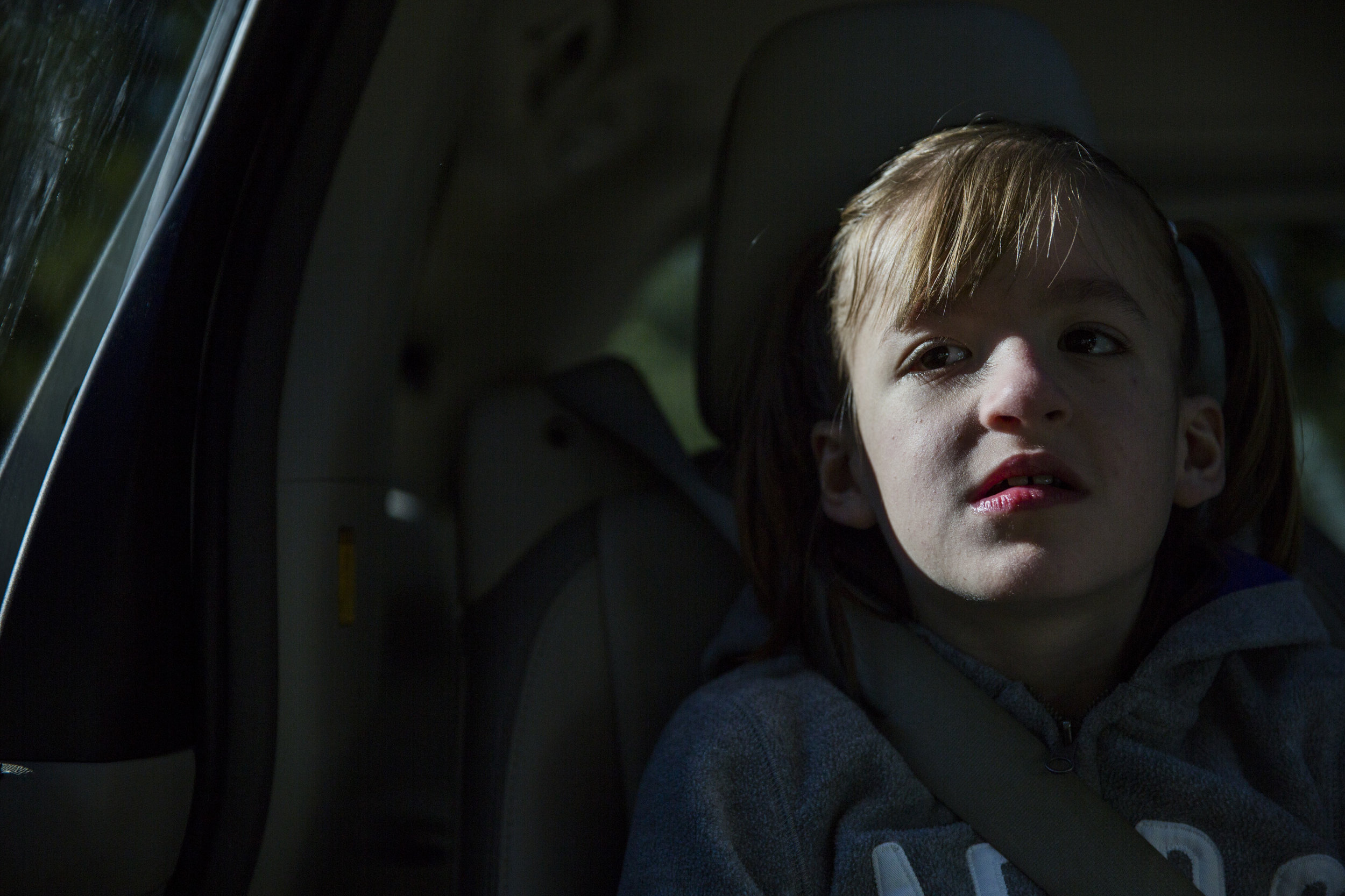 West Tarricone, 9, was diagnosed with intractable epilepsy before her first birthday. She suffers from multiple seizure types. After trying nearly two dozen medications, West's family sought out medical cannabis as a means to better control her seizures. HB-5450, a bill that legalized medical marijuana for children with certain conditions, was signed into law by Gov. Malloy in May 2016. The medicine did not become available until October. West received her for batch of medical cannabis on March 2017. It is too early to tell if the medication is working but Cara, West's mom said "THC is far more effective than any rescue med we have used before," and believes with the daily medication that there has been a "decrease in some seizure activity."